Advocacy Effort
The Consumers Council of Canada believes that energy should be used wisely, and to the best advantage.
Energy efficient products reduce the energy needed to provide and use those products. The Council knows that, by making energy efficiency a requirement, all consumers benefit. The Council supports the idea of governments requiring that homes we live in and buildings we work in be energy efficient and that energy consuming products we purchase, such as appliances, furnaces, etc., be energy efficient.
Governments in Canada should have energy policies that encourage energy efficiency through specific initiatives, building codes, transportation policies, etc.
Building on an energy efficiency foundation, consumers can then work to conserve energy through their lifestyle choices.
Helpful Information
If you are considering a home renovation, you may benefit from purchasing the Council's e-Book A Consumer Perspective on Home Renovations: The Complete Series. 
PDF Version | ePUB Version (most suitable format for smartphones and e-readers)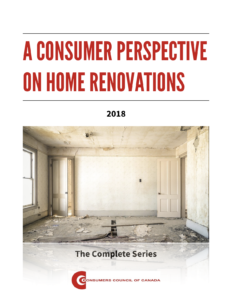 Ontario residents considering home retrofits can benefit from the qualified home energy efficiency advice of Consumers Council of Canada partner GreenSaver.
Learn more
ATTENTION ALBERTA RESIDENTS
CASE STUDY: Energy efficient homes can improve affordability for Alberta consumers.
A Council-sponsored costing analysis for upgrades of EnerGuide 80 homes in Alberta concluded that the total incremental renovation cost was approximately $6,000. When compared to a standard home, built to minimum energy efficiency requirements, the EnerGuide 80 homes boasted a positive net value between $6,600 and $11,000. 
Read the complete analysis [PDF]
YOU CAN HELP!
Your donation will help the Consumers Council of Canada advocate for energy efficient building codes that help consumers become more energy efficient and save money.
Donate Now Through CanadaHelps.org!