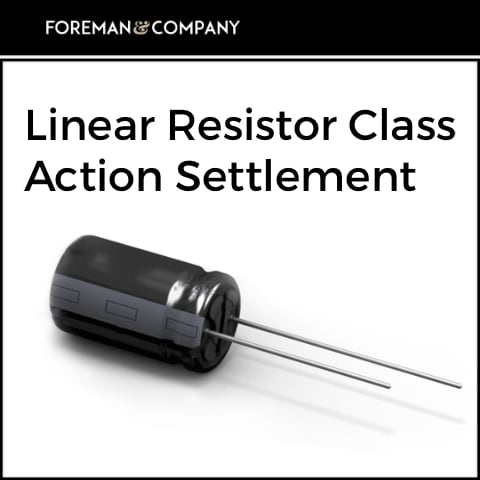 Notice of Class Action Certification
COMMENT PERIOD
Authorization and Settlement Approval Hearings in the Matter of the Linear Resistors Class Actions
TO: All persons and entities in Canada who purchased linear resistors or a product containing linear resistors between July 9, 2003 and September 14, 2015 (the "Settlement Class Members").
If you bought an electronic device containing linear resistors between July 9, 2003 and September 14, 2015 ("Class Period"), such as computers, smartphones, gaming consoles, home appliances and televisions, among other products you may be a Settlement Class Member and your legal rights could be affected.
READ THE COMPLETE PUBLIC NOTICE
WHAT DO I NEED TO DO AT THIS TIME?
If you do not oppose the proposed settlement, you do not need to appear at the hearings or take any other action at this time. In the interim, we recommend you retain all purchase receipts for linear resistors or products containing linear resistors made during the Class Period.
Should you wish to be kept up to date as these Class Actions proceed, you can register with Class Counsel at the contact information below.
If you want to tell the courts what you think about the proposed settlement or speak to the courts at the hearings mentioned above, you must send your written submissions to Foreman & Company, 4 Covent Market Place, London ON N6A 1E2 or by e-mail to cl**********@fo************.com, which must be received by November 17, 2021 at the latest. Contact information for Class Counsel can be found below. Class Counsel will provide all such submissions to the appropriate Court.
In the Class Actions, a settlement has been reached with Kamaya Electric Co., Ltd. and Kamaya, Inc. (collectively "Kamaya").
The Kamaya defendants are the second group of defendants to enter into a settlement in the Class Actions.
Kamaya has agreed to pay CAD $770,000 (the "Settlement Amount") for the benefit of Settlement Class Members. Kamaya has also agreed to provide meaningful early co-operation to the plaintiffs in pursuing their claims against the other defendants. In exchange, Kamaya will be provided with a full release of the claims against them and the Class Actions against them will be dismissed.
The settlement, which was negotiated over several months, is not an admission by Kamaya of liability, fault, or wrongdoing, but is a compromise of disputed claims. The plaintiffs sought and were granted certification / authorization of the Class Actions in Ontario and Québec for settlement purposes only.
The settlement is subject to court approval. There will be settlement approval hearings in Ontario and Québec. These hearings are to take place at:
the Ontario Superior Court of Justice on November 25th, 2021 at 3:00pm by virtual hearing; and
the Superior Court of Québec on November 23rd at 9:30am at 1, rue Notre-Dame Est, Montréal, Québec, Room 15.10, and by virtual hearing whose designation and ID address will be indicated later on the following website: https://www.recourscollectif.info/en/cases/resistances_lineaire/
The courts will decide whether the settlement is fair, reasonable, and in the best interest of Settlement Class Members.
WHERE CAN I ASK MORE QUESTIONS?
This notice contains only a summary of the Kamaya settlement and Settlement Class Members are encouraged to review the complete settlement agreement. A copy of the settlement agreement can be downloaded from the settlement website at www.foremancompany.com/linear- resistors. If you would like a copy of the settlement agreement or have questions that are not answered online, please contact the appropriate Class Counsel. Inquiries should not be directed to the courts.